Empty Netter Assists - 4-22-09
Playoff Stuff

Penguins-Flyers
-Dave Molinari's recap from last night's game. Marc-Andre Fleury was kind of good.
-The Philadelphia Inquirer's recap. Marc-Andre Fleury was kind of good.
-The Philadelphia Daily News' recap. Marc-Andre Fleury was kind of good.

-NHL.com's recap. Marc-Andre Fleury was kind of good.
-The Associated Press' recap. "We're not dead." - Flyers forward Daniel Briere.
-Highlights:
"We didn't put the puck in our feet and throw ourselves in the net -- which is apparently allowed now. Other than that, I thought we played a good hockey game." Flyers coach John Stevens on Sidney Crosby's goal. Stevens apparently didn't catch the handful of times his players staged impromtu Oklahoma drills with Marc-Andre Fleury.
-The Penguins are ripping it up in the faceoff circle.
-Correction: We incorrectly stated Tom Petty's "Even the Losers" was played during the review of Sidney Crosby's goal last night. Alert EN reader Justin Knox informed us it was actually Petty's "They Waiting." We regret the error and as a symbol of our regret, we offer "The Waiting" as sung by Eddie Vedder:
"I don't think they're always respectful to the players and to the game." -Maxime Talbot being rather understated in describing Flyers fans.
-The Penguins have begun calling Chris Kunitz's Game 3 hit on Kimmo Timonen "the Kunikaze."
-Wachovia Center got awfully quiet last night.
-Why haven't there been any white outs at Mellon Arena?
-The 700 Level has a pretty good look at Crosby's goal.
-Has anyone seen Jeff Carter (right)?
-Remember when the Penguins were the team with power-play issues?
Bruins-Canadiens
"Somebody is going to be sitting out that doesn't deserve to be sitting out." -Bruins coach Claude Julien on his team's depth.
-Bruins defenseman Steve Montador found a way to block nine shots in Game 3.
-Canadiens' coach/general manager Bob Gainey asked his team's fans to stop booing the American anthem.
"Now is not the time to quit." Montreal captain Saku Koivu.
Capitals-Rangers
-The Rangers need to regain the momentum in this series.
"My level of communication with him is patting him on the back and saying 'Good game' or 'Go get 'em.'" - Capitals coach Bruce Boudreau on his goaltender, Simeon Varlamov who speaks little English.
Devils-Hurricanes

-Jussi Jokinen's goal with 0.2 seconds remaining in regulation gave the Hurricanes a controversial 4-3 win against the Devils. Joni Pitkanen and Dennis Seidenberg each recorded two assists for Carolina which tied the series, 2-2. Brian Gionta led New Jersey with a goal and an assist while Martin Brodeur made 42 saves in the loss.
-Jokinen's goal and the hissy fit thrown by Brodeur:


-Brodeur wanted a goaltending interference penalty called against Jokinen.
-Brodeur called the officials "pretty awful."
-Devils defenseman Bryce Salvador suffered a knee injury last night.
-Seidenberg returned the lineup just at the right time.
-Versus cut away from last night's triller to preview the Sharks-Ducks game.
Sharks-Ducks

-Dan Boyle had two goals and an assist for the Sharks in a 4-3 win at Anaheim. Rob Blake added a goal and an assist for San Jose which trials in the series, 2-1.
-After getting blanked in Games 1 and 2, the Sharks' power play finally broke through in Game 3.
"It's almost like hitting yourself in the head." - Ducks forward Teemu Selanne on his team taking too many penalties last night.
-Sharks forward Torrey Mitchell returned to the lineup last night for the first time since breaking his leg in the preseason.

Red Wings-Blue Jackets

-Henrik Zetterberg had two goals and led the Red Wings to a 3-1 win at Columbus. Dan Clearly added a goal and an assists while Johan Franzen recorded two assists for Detroit which controls the series, 3-0. Chris Osgood made 31 saves in the win.
-Columbus forward and Plum native R.J. Umberger wasn't sure where he was from last night after this hit by Detroit defenseman Brad Stuart:


-Umberger actually returned from the hit to score Columbus' only goal.
-Blue Jackets defenseman Mike Commodore's timing was a bit off with this hip check last night:
Columbus hosted its first Stanley Cup playoff game last night.
-The Red Wings are simply too much for the Blue Jackets.
-It took Detroit Tomas Holmstrom all of 67 seconds to snuff out Columbus' party.
Canucks-Blues

-Alex Burrows' overtime goal gave the Canucks a series-clinching 3-2 win at St. Louis. Burrows had two goals while teammate Willie Mitchell added two assists for Vancouver which swept a playoff series for the first time in franchise history. Roberto Luongo made 47 saves in the win.
-Burrows' goal and the handshake line:
-Burrows had a custom celebration for his winning goal in honor of late teammate Luc Bourdon.
-The legend of Alex Burrows grew last night.
-They went nuts in the streets of Vancouver:
-Will Vancouver's sweep give Roberto Luongo too much time off?
-Injured Canucks defenseman Sami Salo and forward Mats Sundin are happy to get some down time.
-Luongo needed an intravenous drip after last night's game.
-The Blues went down fightning.
-St. Louis isn't ready yet for the playoffs.
-The Blues took a huge step forward this season.
-This game had a little bit of controversy of its own. Blues forward Alex Steen had a goal taken away.
Blackhawks-Flames
-This series is starting to get nasty.
-The NHL wants everyone to be on their best behavior for Game 4.
-This is a few days old, but here's Chicago forward Adam Burish' cross check to Rene Bourque from Game 3 that went unpunished:
-Bourque is day-today as a result of the hit.
"My goldfish that I had since I was 10 years old died so I had to go back and say my prayers and flush him down the toilet." -Blackhawks forward Patrick Kane on why he missed Game 3.
Adams Division
-The Stanley Cup playoffs are the best in all of sports.
Minor-League Playoffs
-Wilkes-Barre/Scranton Penguins forward Adam Heinrich is out for the rest of the playoffs due to a hand injury.
-The AHL Penguins signed forward Zach Sill to an amateur tryout contract.
Non-Playoff Stuff
Penguins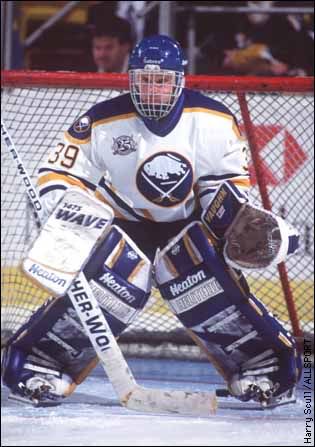 -Are we the only ones wondering about the irony in Consol Energy Center striving to be an environmentally friendly facility?

Atlantic Division
-The Islanders demoted forward Blake Comeau to Bridgeport of the AHL.
Northeast Division
-Former Sabres goaltender Dominik Hasek (right) is coming out of retirement yet again. The 44-year-old former Hart Trophy winner will play for HC Moeller Pardubice in the Czech Republic.
Northwest Division
-Wild goaltender Niklas Backstrom underwent hip surgery.
-Wild goon Derek Boogaard underwent shoulder surgery.
(Photos: Carter-Gregory Smith/Associated Press; Hasek-Photobucket)
Join the conversation: