Empty Netter Assists - 6-1-09
Playoff Stuff
Penguins
-Dave Molinari's recap from last night's game. - "Tonight, I think we outplayed them." - Hal Gill.
-The Detroit News' recap. - "Ozzie saved us." - Detroit forward Henrik Zetterberg on goaltender Chris Osgood.
-The Associated Press' recap. - "They've given us everything we can handle in two games." - Osgood on the Penguins.
-NHL.com's recap. Detroit Mike Babcock is happy to get some time off.
-"It's just two losses." - Marc-Andre Fleury.
-Should Evgeni Malkin (above) be suspended for Game 3 after his fight with Zetterberg?
-Malkin's fight:
-Osgood's flop after getting slashed by Maxime Talbot still makes us laugh.
-Babcock accused Sidney Crosby of head hunting in Game 1 prior to Game 2.
-Babcock then cleared up his statement after Game 2 and apologized to Crosby.
-Has Marc-Andre Fleury been a massive disappointment?
-Are the Penguins better right now than they were one year ago?
-Can the Penguins come back?
-"We don't have to change a whole lot, to be honest with you." - Crosby.
-Forget about talent. This series has been about will.
-Should Dan Bylsma have called a time out prior to the goal by Detroit defenseman Jonathan Ericsson?
-This is not the 2008 Evgeni Malkin.
-Crosby, Fleury, Chris Kunitz and Pascal Dupuis speak:
-Malkin hates beards.
-There were a ton of yinzers in Joe Louis Arena once again.
-Today's comparison of the 1984 Oilers to the 2009 Penguins is brought to you by the 1984 Oilers.
-Game 1 had an average of 4.5 million viewers.
-CBC's pregame introduction:
-Don Cherry's Dos Equis impression:
-If you'll spare us a moment of personal vanity, we actually ended up in the Cherry's skit:
Red Wings
-Detroit has been getting big contributions from its role players.
-Jonathan Ericsson is one tough dude.
-Is Detroit getting a little too much help?
-Osgood luffed off the Malkin-Zetterberg fight.
-The Red Wings are one of the few bright spots in the city of Detroit.
-Valtteri Filppula's eventual game-winning goal:
-How much does Detroit miss Pavel Datsyuk?
-Henrik Zetterberg has been all over Sidney Crosby.
-Babcock's confidence in forward Darren Helm has grown.
-As promised, here's a look at the names of the Detroit's latest Cup winner on the wall near the team's locker room:
-The Red Wings have had a lot of luck.
-Joe Louis Arena is a classic.
Adams Division
- "We wanted to try to build an intense start to the series." -Gary Bettman basically lying about why he let NBC dictate the start of the Stanley Cup final.
Non-Playoff Stuff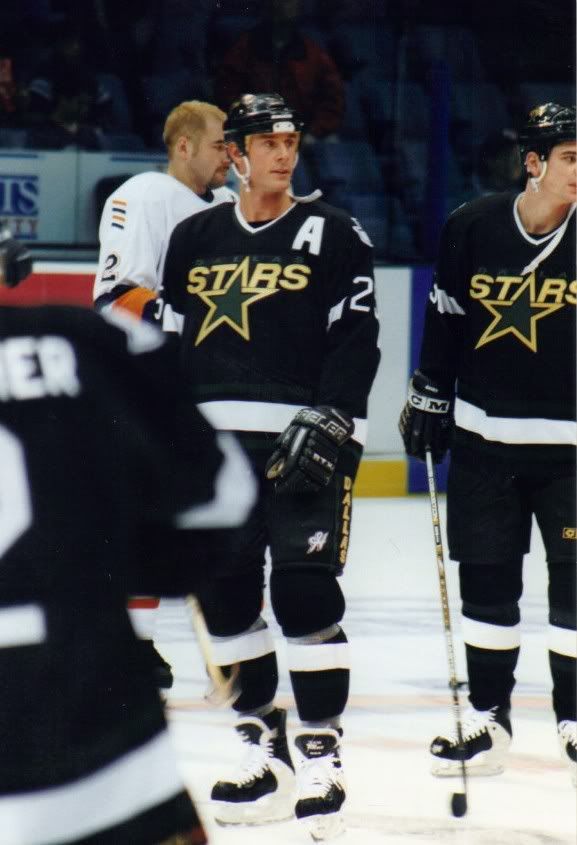 Southeast Division
-The NHL is officially investigating allegations by a suspected Florida drug dealer that members of the Capitals purchased steroids.
Pacific Division
-Remember how that co-general manager thing with Brett  Hull and Les Jackson was such an awesome idea? Well.... apparently not. The Stars hired former player Joe Nieuwendyk (right) as general manager and re-assigned Hull and Jackson to other positions within in the organization.
-The Globe and Mail can't seem to go more than a day without writing something about the Coyotes and Jim Balsillie.
(Photo: Malkin-Claus Anderson/Getty Images; Nieuwendyk-Photobucket)