Empty Netter Assists - 7-29-09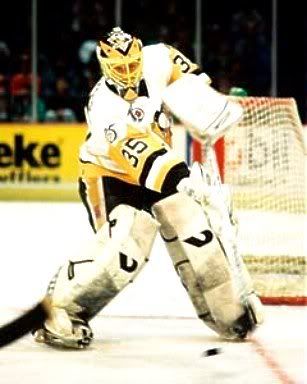 Penguins
-Former Penguins Tom Barrasso (right) and John LeClair will be inducted into the U.S. Hockey Hall of Fame. They will be joined by former Blackhawks forward Tony Amonte, inventor Frank Zamboni and the 1998 United States Women's Olympic hockey team.
-Remember that Tim Hortons in Alberta that had an autographed Sidney Crosby poster stolen earlier this summer? Well... guess who replaced it.
-Crosby's day with the Stanley Cup in Cole Harbour, N.S. was officially confirmed.
-If you happen to be at Nashoba Regional High School in Bolton, Mass. Aug. 13, annnnddd... you're a fan of Hal Gill and/or the Stanley Cup... good news.
-"I'm 100 percent sure that I'll be ready for training camp." - Paul Bissonnette on his wrist injury.
-All the luxury boxes at Consol Energy Center are already sold out.
-The Wilkes-Barre/Scranton Penguins re-signed goaltender Adam Berkhoel and signed former Wheeling Nailers defenseman Mitch Ganzak.
Atlantic Division
-The Flyers named former Flames coach Greg Gilbert as head coach of their AHL puppy-drowning affiliate which is now in Adirondack.
-The Islanders are the latest Atlantic Division team to use Kansas City as leverage for a new arena.
Northeast Division
-After missing the playoffs for the past two seasons, the Sabres will not raise ticket prices.
Southeast Division
-The Lightning intends to buy out the final three years of forward Vaclav Prospal's (right) contract.
-The Hurricanes bought out the final year on defenseman Frantisek Kaberle's contract.
-Nonsensical Note of the Day: Were the Penguins to sign Kaberle, they would have four of the past six Stanley Cup-winning goal scorers on the roster:
Mike Rupp with the Devils in 2003.
Ruslan Fedotenko with the Lightning in 2004.
Frantisek Kaberle with the Hurricanes in 2006.
Maxime Talbot with the Penguins in 2009.
-The Chicago Wolves, the Thrashers' AHL affiliate, signed former Maple Leafs forward John Pohl.

Central Division
-The Red Wings signed former Flyers defenseman Andy Delmore to a one-year two-way contract.
-The Blue Jackets re-signed restricted free agent goaltender Dan LaCosta to a one-year two-way deal.
-Blackhawks broadcaster Ed Olczyk (right) basically told disgruntled former Chicago forward Martin Havlat to shut up now that he's with the Wild. No word yet on how Olczyk managed to work in his obligatory "I used to coach the Penguins" line.
Northwest Division
-The Wild hired former Ducks scout Brent Flahr as assistant general manager. He had previously worked with Wild general manager Chuck Fletcher in Anaheim and Florida.
(Photos: Barrasso-Photobucket; Prospal-Bruce Bennett/Getty Images; Olczyk-Gene J. Puskar)