Empty Netter Assists - 9-22-09
Penguins
-Brent Johnson has some good bloodlines.
-Shelly Anderson's recap from last night's game. Pascal Dupuis suffered a knee injury.
-The Montreal Gazette's recap. Brian Gionta (above) burnt the Penguins once again.
-Last night's highlights:
-Dmitry Chesnokov for Yahoo! comes through with a fantastic Q&A with Evgeni Malkin. The piece includes news that Malkin has hung out with a certain disgraced Steelers kicker, his feelings on Petr Sykora's exit from the franchise and his desire to play in the 2014 Olympics in Sochi, Russia regardless if the NHL allows its players to do so.
-Former Penguins defenseman Sheldon Kannegiesser sure likes his poetry. (Kudos to Kukla's Korner for the find.)
-Random YouTube Find of the Day: Former Penguins goon Marty McSorely swinging away at Florida's Scott Levins:
-The Wilkes-Barre/Scranton Penguins cut forwards Colt King, Mark Roebothan and Justin White.
-Penguins prospect Aaron Boogaard has recovered nicely from offseason shoulder surgery.
-The Wheeling Nailers signed forwards Corey Couturier and Braden Walls.
-Happy 52nd birthday to former Penguins forward Mark Johnson. Johnson is the son of former Penguins coach Bob Johnson and was a member of the 1980 United States Olympic men's hockey team. He is currently the head coach for Wisconsin's women's team and will coach the United States' women's team in the 2010 Games in Vancouver.
-Happy 37th birthday to former Penguins forward Pat Falloon. He was the first ever draft pick in the history of the expansion Sharks in 1991. He went No. 2 overall after the Nordiques took Eric Lindros.
-Happy 46th birthday to former Penguins forward Carl Mokosak. He appeared in all of three games for the 1986-87 team and was a minus-4.
-Happy 48th birthday to former Penguins goaltender Brian Ford. He went 2-6-0 for the Penguins in 1984-85.
Atlantic Division
-Rangers forward Sean Avery (right) is dealing with a wonky knee.
-Former Penguins prospect Matt Moulson has had a strong training camp with the Islanders. Fire Ray Shero.
-Islanders forward Pascal Morency was suspended for the remainder of the preseason and five regular season games after he jumped off the bench during a game last week to fight Calgary defenseman Dion Phaneuf.
-The Islanders demoted goaltender Mikko Koskinen and forward Robin Figren to Bridgeport of the AHL and returned goaltender Kevin Poulin and defenseman Jyri Niemi to their junior teams.
-The Flyers demoted forwards Josh Beaulieu, Rob Bellamy, Matt Clackson, Ryan Dingle, Jonathon Kalinski, Garrett Klotz, Jonathan Matsumoto, Andreas Nodl, Tomas Sinisalo; defensemen Oskars Bartulis, Marc-Andre Bourdon, Joonas Lehtivuori, Kevin Marshall, Mike Ratchuk, David Sloane, Logan Stephenson, goaltenders Jeremy Duchesne, Nic Riopel and Michael Teslak to Adirondack of the AHL and returned returned forwards David Labrecque, Mike Thomas, and Eric Wellwood, defensemen Tyler Hostetter, Brennan Yadlowski, goaltenders Adam Morrison and Jacob DeSerres to their junior teams. Additionally, forwards Mark Bell and Adrian Foster were released.
-Marian Gaborik made his preseason debut with the Rangers and recorded an assist in a 4-2 win against the Red Wings.
Northeast Division
-Bruins defenseman and former Penguin Andrew Ference (right, above) is still recovering from offseason groin surgery.
-The Canadiens demoted forwards Andrew Conboy, David Desharnais, Mike Glumac, Ryan Russell, Brock Trotter, Ryan White, J.T. Wyman, Mathieu Darche, Mikael Johansson, Dany Masse, Eric Neilson, defensemen Chad Anderson, Frederic St-Denis, Andre Benoit, Michael Busto, P.K. Subban, Shawn Belle, goaltenders Cedrick Desjardins and Robert Mayer to Hamilton of the AHL.
-Neilson used to serve as Sidney Crosby's bodyguard when the two played with Rimouski Oceanic in the QMJHL.
-A knee injury will sideline Senators forward Jesse Winchester for three weeks.
-Mike Fisher and Jason Spezza each had a goal an and assist for the Senators who beat the Lightning, 3-1.
-Drew Stafford and Patrick Kaleta each scored goals for the Sabres in a 2-1 defeat of the Capitals.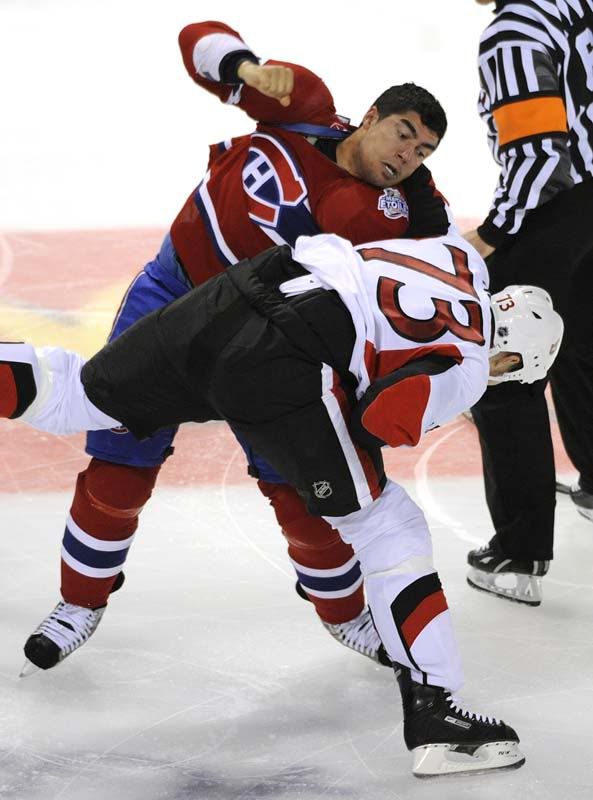 -Former Penguins goaltender Patrick Lalime was sharp in the win for Buffalo.
Southeast Division
-The Lightning assigned forward Lauri Tukonen to Lukko Rauma in Finland.
-Pavel Kubina had a goal and an assist for the Thrashers who beat the Hurricanes, 4-2.
Central Division
-The Predators signed former Canadiens defenseman Francis Bouillon (right, with Senators forward and former Penguin Jarkko Ruutu).
-Blue Jackets forward Raffi Torres is dealing with back spasms.
-Red Wings forwards Todd Bertuzzi, Dan Cleary, Jason Williams and Henrik Zetterberg are all dealing with groin injuries.
-The Blues demoted defensemen Brendan Bell, Steve Wagner, forwards Julian Talbot, Chris Porter, Nick Drazenovic, Ryan Reaves, Aaron Palushaj, Cam Paddock and goaltender Hannu Toivonen to Peoria of the AHL and returned forward Philip McRae to his junior team.
-Vince Vaughn sure likes his Blackhawks.
-Derick Brassard recorded a goal and two assists for the Blue Jackets in a 5-1 stomping of the Wild.
Northwest Division
-Flames forward Theo Fleury (right) wouldn't mind if his comeback took a detour though Abbotsford, B.C., home of Calgary's AHL affiliate.
-Wild forward Benoit Pouliot is dealing with a groin injury.
-The OIlers put former Penguins forward Chris Minard forward Ryan Potulny and defenceman Dean Arsene on waivers for the purpose of demoting them to Springfield of the AHL, demoted defenseman Alex Plante, Jake Taylor, Bryan Young and forward Ryan O'Marra to Springfield and returned forward Milan Kytnar to his junior team.
-The Avalanche signed forward Ryan O'Reilly to a three-year entry-level contract.
-Colorado demoted forward Ryan Stoa and defenseman Ryan Wilson to Lake Erie of the AHL.
-Canucks defenseman Mathieu Schneider is still recovering from offseason shoulder surgery.
-Shootout goals by Cody Hodgson and Daniel Sedin gave the Canucks a 5-4 win against the Flames. Sedin had two goals in regulation.
-Sedin's second regulation goal came with all of 0.2 seconds left in regulation to tie things up:
Pacific Division
-Flyers goaltender Ray Emery predicted his former Senators teammate, Dany Heatley, now of the Sharks, will hit the 60-goal mark this season.
-The Coyotes hired Dave King as assistant coach, moved Sean Burke from director of player development to goaltending coach and moved Grant Fuhr from goaltending coach to director of goaltending development.
-Phoenix demoted forwards Chad Kolarik, Francis Lessard, Viktor Tikhonov, Kyle Turris and defenseman Jeff May to San Antonio of the AHL.
-Jean-Sebastien Giguere had 23 saves for the Ducks who edged the rival Sharks, 3-2.
-The video is kind of shaky, but check out this sick goal Anaheim's Corey Perry scored:
Norris Division
-Nice to see those Versus/DirecTV negotiations are going well.
-Happy 75th birthday to former Pittsburgh Hornets goaltender Gerry McNamara.
-Happy 77th birthday to former Pittsburgh Hornets forward Gerry Foley.
(Photo: Gionta-Ryan Remiorz/Canadian Press; Avery-Bruce Bennett/Getty Images; Ference and Bouillon-Photobucket; Fleury-Jeff McIntosh/Canadian Press)